About Patriot
Patriot Industries is the only American Owned & Operated Family Business producing the full lines of Rigid Aluminum and Rigid Stainless Steel Conduit, Nipples, Elbows, and Couplings, as well as EMT Elbows and GRC Nipples, and Elbows. We are proud to be one of a growing number of American companies investing in American Manufacturing and bring jobs back to our community...we truly are Made In America plus
Patriot was founded in 2010 by Tom & Sarah Click. Like many American Manufacturing stories, Patriot's beginnings were small and focused. The original startup consisted of:
Tom Click + 1,000 Square Feet of Leased Space + 1 Hand Threading Machine
Today Patriot has:
A new, fully modernized 30,000 SqFt facility in Louisa, Virginia.
We have 61 employees
6 Delivery Vehicles
5 Landis Double Head Conduit Production Lines
13 Haas CNC Centers
A 10 station Nipple Production Line
2 Wallace Large Radius Shipyard Benders
5 Pedrick Rotary Compression Benders
Approximately half of our workforce are US Military Veterans
We maintain approximately $3,000,000 of inventory
10 Regional Warehouses Nationwide
Patriot produces the following products in it's facility in Louisa, Virginia:
Rigid Aluminum Conduit, Nipples, Elbows, and Couplings
Rigid Stainless Steel Conduit, Nipples, Elbows, and Couplings
Galvanized Nipples and Elbows
EMT Elbows
When your order rides on Patriot Blue™, there is NO MINIMUM ORDER SIZE and NO FREIGHT!
Patriot's Electrical Products can be found on Industrial & Commercial Projects Worldwide.
Thank you for supporting Patriot. Thank you for supporting American Manufacturing.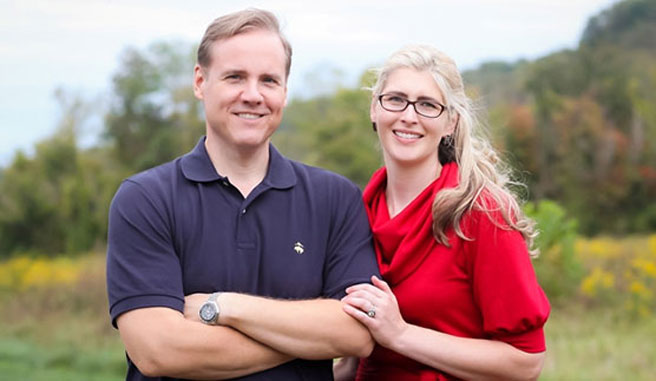 Tom Click
President & CEO
Prior to forming Patriot Aluminum Products, Mr. Click spent 10 years in the metals industry...most recently as Vice President of Market Development for Norsk Hydro Aluminum and previously as Vice President of Marketing & Product Development for Indalex Aluminum (now Sapa Group). Before entering the metals industry, Mr. Click managed the Product Management and Engineering departments for the Amerock division of NewellRubbermaid.
Tom received his BBA from the University of Kentucky and an MBA from the Gatton College of Business & Economics at the University of Kentucky.
Sarah Click
Partner
Mrs. Click is a Human Capital Strategy Consultant at Accenture. She has responsibility for advising on the development of Human Capital Strategies and managing programs that address the risks and roadblocks to achieving higher business performance.
Prior to this role she worked with retail clients to develop and execute marketing, merchandising, and pricing strategies. Before working for Accenture, Sarah worked for General Motors as an Industrial Engineer.
Sarah received her Bachelors in Industrial and Systems Engineering from The Georgia Institute of Technology.
John Griffin
Plant Manager
Growing up in the threading business at Pittsburg Pipe & Nipple, which his family owned; John made his first piece of conduit at the ripe age of 14.
After stints at Sawhill Tubular and Florida Pipe and Nipple and after many miles later, John re-opened his suitcase in Virginia.
John brings a wealth of insight and experience to the manufacturing process at Patriot Aluminum.